A Dutch mortgage loan typically consists of one or more loan parts. Until January 1, 2013, a typical mortgage loan consisted of two parts as illustrated in the figure below, based on common practice and the Code of Conduct.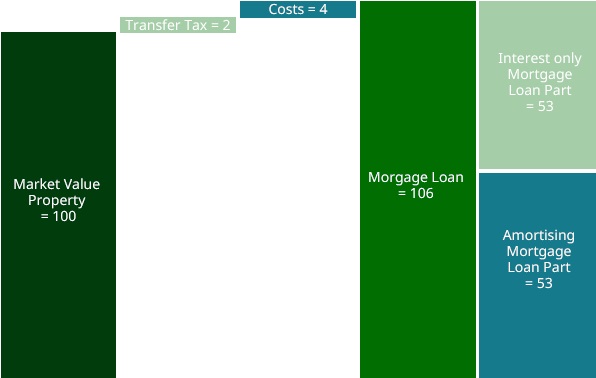 Up to 50% of the mortgage could be interest only. Non amortising loans were popular in the Netherlands, since interest on mortgage loans is tax-deductible. However, from January 1, 2013 only interest on amortizing loans is tax-deductible (and the loan maximum is reduced from 106% to 105%), so a typical mortgage loan in 2013 looks as follows.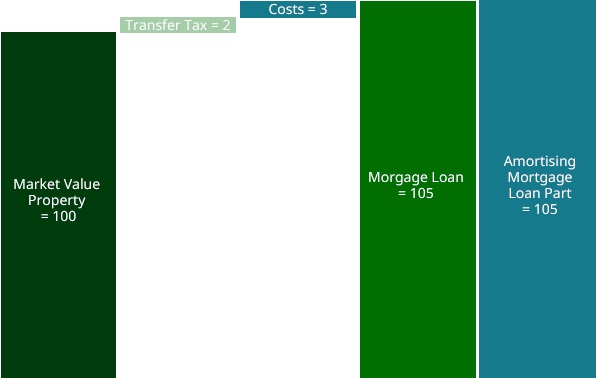 In the next years the loan maximum has been reduced in steps of 1% per annum. It now stands at 100%. No further reductions are currently planned.
Please note that although the DSA tries to give an overview of the current state of affairs, regulations on mortgage lending are the subject of constant debate and originators quickly adapt their policies to changes in those regulations,
the DSA cannot guarantee the correctness and accuracy of the information provided.
Code of Conduct on mortgage lending and Regulation mortgage lending
An important feature of the Dutch residential mortgage market is the Code of Conduct, which was established to maintain the sustainability of the Dutch mortgage market by protecting consumers from mortgage loans they cannot afford and thereby decreasing the probability of defaulting on their loans. Click here for more information on origination and the Code of Conduct.
Since December 2012, certain elements of the Code of Conduct are ruled by law (Regulation on Mortgage Lending).

NHG Guarantee scheme
The National Mortgage Guarantee (NHG) is a public (voluntary) mortgage loan insurance scheme in the Netherlands. The NHG is an insurance against residual debt in case of default.

WSNP
Under Dutch legislation, when a borrower cannot meet his debt obligations, he can apply for a debt restructuring (Wet Schuldsanering natuurlijke personen, WSNP). A trustee will be appointed who is in charge of all of the borrower's finances. If during a three-year period a number of very strict criteria are met by the individual any remaining debts are cancelled after this period. More information can be found on the WSNP website of the Legal Aid Board (Dutch).